Visitors share their own tales
Travelers on the Lake Country Scenic Byway often leave notes at historic signs created to help visitors learn more about the Byway story. Often heartwarming, sometimes humorous, visitors' notes tell a story of their own.
Byway historic signs are placed on Highway 71 between Park Rapids and Itasca State Park, at a place known as the Arago Corner; on Highway 34 between Park Rapids and Detroit Lakes at the Height of Land Town Hall; and on Highway 113 between Highway 71 and Bad Medicine Lake.
Notes left at the Arago Corner interpretive sign:
I've traveled this road (71) starting in the early 1950s to and from Bemidji to Park Rapids and Itasca State Park. This is a new history to me. Thank you. Grew up in Bemidji. Was District Forester for the State in Bemidji for a short time. — Doug
Stopped on the way back from seeing the Mississippi Headwaters. — Stephanie, St. Paul
Exploring Minnesota with 2 exchange students and they learned some of these names in their US History classes. — Burkett, Wayzata, MN, Johanna from Germany and Leyla from Berlin
Enroute from Bemidji to Bismarck. Thanks for the history lesson! The hoary puccoon is blooming orange-yellow now. It's a rarer plant these days. Thank you. — Samantha
Our first time visiting Itasca State Park and surrounding area. Beautiful country. — Walt & Gigi, Springfield, MA
Going to Itasca to revisit our honeymoon of 37 years ago. — Dave & Star, Minneapolis
Appreciate the marker. I have old postcards marked Arago, but knew nothing about it. — David, North St. Paul
I learned a lot. — Morgan, Minneapolis
Out for a motorcycle ride and love stopping for historic markers. — Abe
Had the BEST time at Itasca. — Crystal, Jeremy, Brian, Ivy, Lacie and Travis
Great rest stop. Beautiful area. Thank you for making this.
On our way to Fargo. Dogs needed a place to stretch legs. Hi from Saint Paul. Go Vikings!
Northern Minnesota is gorgeous. I had no idea. Have a great winter.
#32 on our bucket list is to travel all of US Highway 71. We started 3 weeks ago, near New Orleans, Louisiana and made it this far. What an exciting adventure we have had. A trip everyone must take at least once in a lifetime. — Mr. and Mrs. St. Augustus, Georgia, USA
I am originally from Minnesota – by Ada, but have lived in California for 40 years. I always have to "come home" for the fall colors. Thank you, Minnesota! — Sharyn
We have been volunteering at Tamarac National Wildlife Refuge and will be taking 71 to termination in Louisiana. Then home to Georgia. Love Minnesota. — Ward and Pat
I am so grateful to God for making such beautiful landscapes. I am so happy that I got to visit Minnesota. We love it here. We will be back. — Pretty & Handsome, Clarinda Iowa
I came from Sault Ste. Marie, Michigan to Minnesota to work for the Native people. This beauty is reminiscent of home.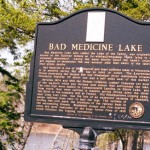 Notes left at the sign overlooking Bad Medicine Lake:
This is about my 10th last ride of the year on motorcycle. Sunny – quiet – a dragonfly just buzzed me. Nice to have trees, a good road and such beautiful places to be. — Peace, Curt
Your mom was here. The fish were biting.
Nice Day. Nice Place. Nice Lake. — K.T.
Boozhoo, I saw Gitchi Zaabe! (Bigfoot). Ma'iingan en doodem (Wolf is my clan). Beautiful place! Mino-mashkiki (good medicine) — Peace, Ash & Rach
We were here looking for Bigfoot.
Stopped on May 3, 2012. Very interesting marker. Lots of work put into it. Very impressive. — Bob & Barb
Retracing grandpa's steps. He was here 70 years ago. I see him in the area around me. I take him with me. Love you, Grandpa! — Cindy
Just driving thru the country trying to make some sense why life can be so tough at times, but yet so beautiful to live in. Im starting to understand why we appreciate the hard-to-earn things. I'm getting older and longer in the tooth, but I still believe in happy endings. — Tim
The end of a wonderful weekend of camping and soul searching. I realized some important things about myself; some good; some bad, but I know I want to be a good person and live a purposeful life. God has truly blessed me and the world with his grace and beauty. Go Twins!
Just finished another weekend at the lake cabin. Next month I will celebrate my 40th birthday and have been visiting these woods just as many years. This past deer season we had 4 generations at the cabin! This weekend my son and his friend spent hours swimming, hiking, gathering honeysuckles and finding snakes. The world would be a better place if each child could have this opportunity away from electronic soul suckers. We all need the natural quiet places like this can offer. Be kind! — Micah
Passed through at 6:30 a.m. Just me and a deer on 113 so far. The lake is like glass and birds are singing all around me. A lovely place. I love the history of the CCC. I have heard many old men reminisce of those days of their youth and what they accomplished. A lovely day to any traveler who reads this! — Laurie
First trip to Minnesota and I have to say this is one of the most beautiful places we have ever been. Our thanks to the men of Company 2703 for their work! — Semper Fi, MSgt Bill and his daughter, Brittany
Absolutely beautiful. This place rocks.
From Saskatchewan riding motorcycles. Beautiful part of the country. — Bill & Bev, Cordell & Doreen
Impulse stop today. Such a beautiful area and quite peaceful. We look forward to stopping again in the future. — Brandon & Mandi
Had a great time in Itasca. Stopped to have a picnic. Beautiful view and I love my baby. — Kady
Beautiful day out driving – road trip from Fergus Falls.
Heading to Itasca. Interesting history. Thank you. — Olsons from Arizona
This is my first visit here to this place. And it is so beautiful! I rome from the East of the Onondaga Nation of the G Nations Iroquois Confederacy and am very grateful to the man who made the trails in this area to make it easier to travel; also to my good friend for bringing me here. Nyawenha!
Kirb and Ang here on the Harley. Just rode thru Itasca. Beautiful day, beautiful country.
This is our first visit to this place. It's so wonderful. We're here to make vacations. We came from Germany, Stuttgart. Many greetings or Viele Grüpe.